Employee Spotlight Series: Rhonda Woerner
December 16, 2022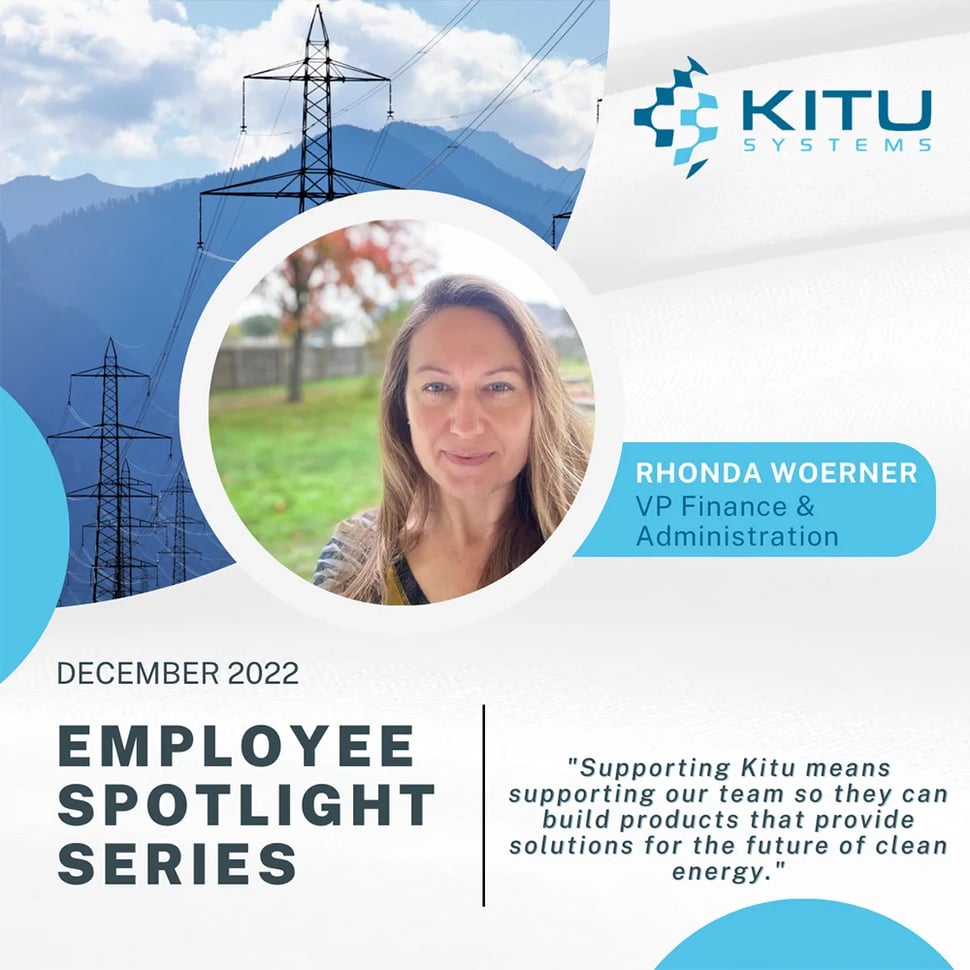 1. Tell us about yourself!
First and foremost, I'm a mom. Being a working mom means a lot of juggling and some frantic moments, but at work I hope people see me as an organized and focused Finance and HR professional. I have had the privilege of working in diverse industries from real estate to mobile games and now clean energy. The thing that each company has had in common which stands out is that they truly value individuals and are willing to provide flexibility that, as a working mom, is necessary for managing work-life balance. I have worked mostly in small to medium-sized businesses and I love the variety of work that a small company provides as well as being able to see the direct impact of my work.
My degree is in accounting, and I love the structure and exactness of the field. Before coming to Kitu, I managed payroll so I was HR adjacent – working closely with HR teams and learning from them. Now I head up HR, and I have found that I really enjoy the role of supporting employees. Whether I am onboarding a new employee or designing our benefit plans, employees are my top priority.
2. What is your history with Kitu?
I have been with Kitu for almost 5 years. Within the first 18 months of joining the company, Kitu doubled in size. It was an exciting and hectic time getting up to speed, adding people to the company, and managing everything that comes along with that. COVID-19 came shortly after that, and we figured out how to weather that together. Because of the pandemic, we, like many other software companies, transitioned to fully remote work. One thing that moving to remote work did was to allow us to hire talented people from anywhere around the country. With a remote workforce comes the challenge of creating a strong company culture, but it is much easier when people already share a passion for the vision. People do not just join Kitu for a paycheck. They join for the ability to make a real difference in the world and contribute to clean, efficient energy through technology. This common goal points everyone in the same direction, and our culture revolves around that shared vision.

3. What has been the most fascinating or interesting project you have been a part of recently?
In my role, I get to touch every single project. If there is a contract or money changes hands, I will be involved. Because of that, it is impossible to pick just one so I will briefly list three. We are working with a university research team that is using machine learning and behavioral economics models to predict and manage EV (Electric Vehicle) charging. The project's technological details are outside of my expertise, but the practical use is about behavior and that is quite interesting to me. You can find out more here.
We have also recently launched a project helping a homeowners' association in Detroit take advantage of EV charging rebates through DTE's Charging Forward program. The homeowners' association now has charging stations for 25% of the units in the building. Twenty five percent is a huge deal, and a group of homeowners did this on their own. It was not a CEO saying, "we're going to do this for the company." It was a group of people that got together and said, "How can we make this happen? What are some of the programs out there that can help us with the financial requirements?" They made it happen and it was exciting to be part of it.
The last example I will share is that we are working on some exciting vehicle-to-grid (V2G) projects. You may have heard about the ability to power your home during an outage (vehicle to home) or even charge another EV (vehicle to load) with your car battery. On a much larger scale, V2G technology can help to stabilize the grid by discharging car batteries during periods of high usage and charging them during periods of peak generation. As batteries become more efficient and technology advances, there is going to be so much more to EV charging solutions than finding a station and charging the battery.

4. How would you describe the company culture at Kitu?
I think the easiest way to describe it is that our culture is about doing the right thing. We have an incredibly talented group of people that work hard to create technology that makes it easy for businesses and customers to do the right thing for the planet concerning clean energy. We are also a group of people who do the right thing for one another.
One of the examples I like to bring up is our internship program. When interns join Kitu, they get to collaborate on real projects and gain real world experience. We have director-level employees and product leads who started at Kitu as interns. They have stayed and grown with the company over time, and it is fantastic to see that. We think the practical work experience whether at Kitu helps all interns figure out what they want to do and where they want to go with their careers. Our employees are upwardly mobile and many have longtime service across the company.
A direct goal of mine that fits with the culture of doing the right thing is how we support our employees. We recently updated our employee benefits program to better match our out-of-state employees' needs. We have had a number of employees relocate to other states, and they get the stability and peace of mind of not having to find a new job and we get to retain great employees and their knowledge base. Having a "do the right thing" mentality means that we treat each other with respect and kindness, and we do our best to support each other in career and professional development as well as when we encounter challenges in our personal lives as well.

5. Do you have any advice for new professionals looking to enter the industry?
When I first started at Kitu, some of the language and acronyms were intimidating. My advice is: do not let a lack of experience in any industry keep you from following your passions. If you are passionate about something (in our case, clean energy/green tech) and are willing to work hard, then everything else can be learned. Do not hesitate – go after what you want! Everyone starts at the beginning at some point in their career. EV comes to mind specifically because it is a new area and changes are happening rapidly. In a dynamic field, it is more about your ideas and ability to solve problems by creating something new. Even if you have been in an industry for a long time, there are always new problems, and having a fresh eye can be a benefit.
6. What are your goals for the future of Kitu?
I am excited for the future here at Kitu. I play a supporting role so wherever the company is headed, I will support that vision and the related goals. For me that might mean making sure we have the right team in place and adding structure and processes to scale as we grow. Supporting Kitu means supporting our team so that they can build products to provide solutions for the future of clean energy.
---
Are you looking for a company where you will be an integral member of an engineering team focused on delivering cutting edge solutions? Would you like to make a noticeable and direct impact? Do you have a passion for technology, the environment and making the world a better place?
Kitu is HIRING!
Click below to learn more about our current opportunities:
---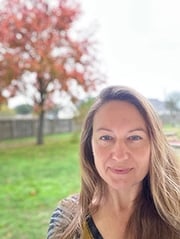 Rhonda is the Vice President of Finance and Administration at Kitu Systems. She manages all aspects of accounting, finance, and human resources and supports compliance, legal and other operational needs of the company.

Prior to joining Kitu Systems, Rhonda most recently served as Accounting Manager at Pocket Gems, a San Francisco based mobile game start up. In that role, she managed the day-to-day accounting, the company's tax compliance and payroll activities. During her tenure at Pocket Gems, the company raised $155 million in funding and the company grew from 2 employees to over 200.
Rhonda holds a Bachelors of Accountancy from the University of San Diego and is a California licensed CPA.


---
Interested in hearing more from Kitu Systems? Subscribe below!