Employee Spotlight Series: Rick Kornfeld
October 19, 2022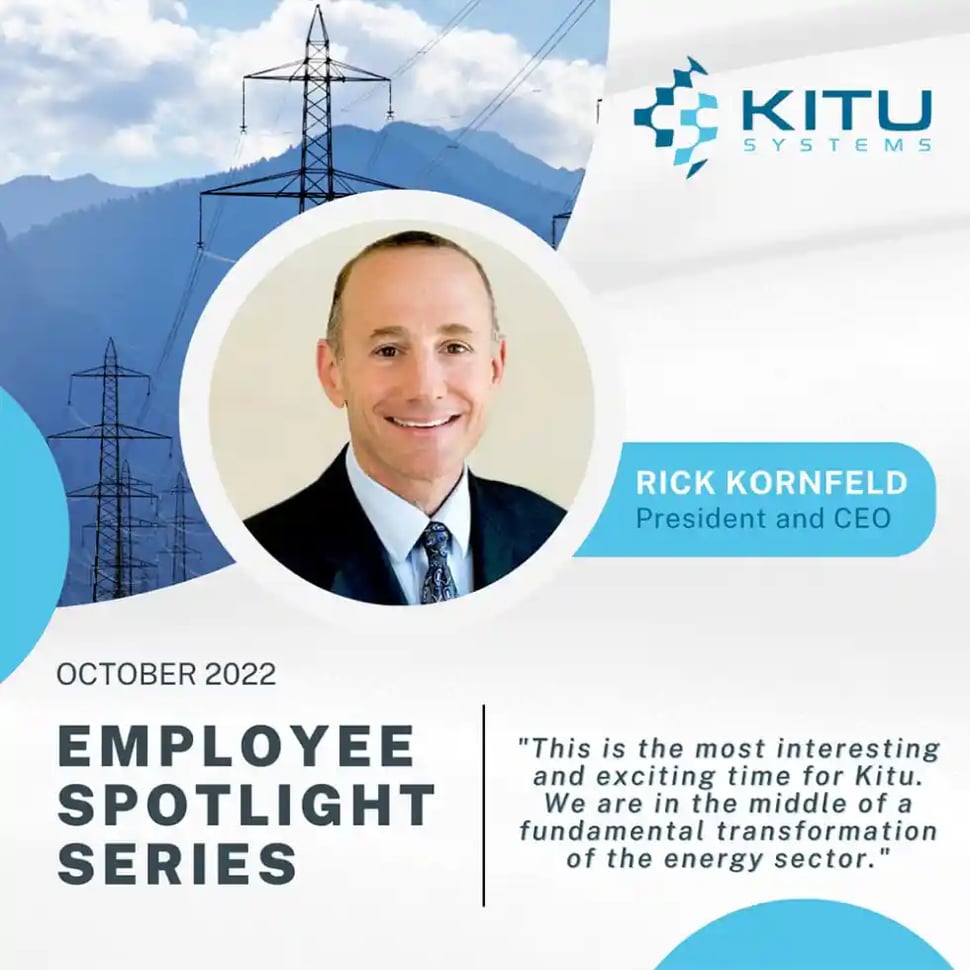 1. Tell us about yourself!
I have been an entrepreneur for a good part of my career. As an entrepreneur, you have some gaps between successful exits, allowing you to think about what you want to do and time to ask important, reflective questions. I had a gap between things I was doing and wanted to do things very differently. I decided I wanted to go into an area, unlike anything I had done before and focused on two aspects: an area with societal benefit and an area with an enormous economic and commercial opportunity. There were a couple of areas that I felt fell into that, and I began to get involved in, one of which was of course, cleantech. That led me to Kitu!

2. What is your history with Kitu?
I started with Kitu right at the beginning. Kitu was started at the end of 2009 and had secured funding but had yet to be launched. When the company decided to look for a CEO, I happened to be going through one of those "gaps" and was very focused on cleantech. I began a dialogue with the company and found a lot of threads between myself and Kitu, such as my relationship with Kitu's board member Doug Rasor from our previous experience at Texas Instruments. I've held the position as CEO and president since that time.

3. What has been the most fascinating or interesting project you have been a part of recently?
This is the most interesting and exciting time for Kitu. We are in the middle of a fundamental transformation of the energy sector driven by factors such as decarbonization to forestall climate disaster, distributed generation, electrification of transportation, electrification of the home, and more. Plus, there's a whole set of technology advancements happening that have, for example, enabled the widespread adoption of electric vehicles. This has to do with things like battery technology, motor technology, and material science that are all converging and causing an enormous transformation and disruption in the market. I think the transformation we are seeing rivals the kind of transformation the internet or the smartphone brought us. Kitu's products and services are a foundational element of this transformation.
At the heart of this transformation are a number of technologies, but key is the ubiquitous, multi-asset, secure, scalable, communication and coordination of energy devices in the energy ecosystem, and that's where we are. Kitu has carved out a horizontal piece of this IoT puzzle that connects devices, service platforms, and service providers with value stacked markets that are coordinating their use of energy. I think this is an enormous challenge, but it's the most exciting aspect of what we've been doing at Kitu.

4. How would you describe the company culture at Kitu?
On one hand, we have an engineering driven culture. I don't mean that everyone is an engineer, but we all tend to have an epistemic way of looking at things. There's a lot of collaboration between people and teams at Kitu. It's okay and acceptable to ask a coworker, "Why? Why is this happening?" to reach down and find the causality of why things are the way they are to help make decisions moving forward. That's a big part of Kitu culture, but it's also very human oriented. Of course, we are a company fueled by results and the commercial "yardsticks" that drive all companies, but we also value our colleagues' time and do right by one another. Our smaller company size also allows us, in part, to keep this human centered approach.
We also have a culture that embodies an entrepreneurial mindset. This encourages our people to not just complete their tasks within narrow boundaries, but to look at what the right thing to do is. I've worked at companies where folks see their job as simply a cog in the machine and find comfort in not thinking broader or taking accountability for innovation. Here at Kitu, our people actually want to have broader responsibilities and take on more risk to achieve great results. This combination of an engineering and entrepreneurial culture sets Kitu apart.

5. Do you have any advice for new professionals looking to enter the industry of the "electric ecosystem"?
It starts with what you want to do! If I'm giving a young person advice, I always start there. You can head towards where you think there's some opportunity, but if it doesn't resonate with you, you're not going to be fulfilled.
From an engineering perspective, there're so many ways you can go about it. You can start from the perspective we have, which is around communication, data, and analytics. This is an enormous field. If you go back many, many years, people were taught a lot about power engineering. That has been neglected recently, but I think it's coming back and very intellectually interesting.
For people coming from other non-engineering perspectives, I'll say it starts from your passions. When I talk to people who want to join Kitu, I always ask them questions about their passion for cleantech. If someone, let's say, is doing marketing, they can market a variety of things, but it matters if they're passionate about this space. If you talk to the people in our company, you'll find they're passionate and care about their work. 

6. What are your goals for the future of Kitu?
Kitu is the foundation of this fundamental transition disruption that's happening. I would like to see this transition through. With that will come commercial success and traditional things you measure a company by, but fundamentally this is what I want to see for Kitu. It's difficult to know when you're at an inflection point, although you can usually see it in the rearview mirror. I think we're in the middle of an inflection point right now.
It's also important for Kitu, or any company, to remember that we need to be measured by the traditional measurements of company success. As an officer of the company, these are just the normal fiduciary responsibilities I have, and I hope everyone in the company has. This speaks to traditional things like shareholder value, revenue, profitability, etc. We must keep all those measures in mind, but it starts with this transformation and staking out our place in the overall ecosystem.
---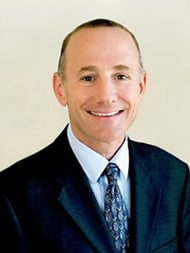 Rick has worked for some of the region's most notable tech companies, including Linkabit, Qualcomm and Texas Instruments. Currently the President and CEO of Kitu Systems, Rick was most recently EVP & Chief Strategy Officer, NextWave Wireless and NextWave Broadband and previous to that served as President & CEO, Staccato Communications from 2004 to 2006.

Prior to taking the helm of Staccato, Rick was vice president and general manager of Texas Instruments' Wireless Chipset Business Unit. He joined TI as part of the acquisition of Dot Wireless, where he was co-founder, chairman, and CEO. Prior to founding Dot Wireless, Rick was a founding member of NextWave Telecom, Inc., where he was the senior vice president and general manager of the Consumer Products division. Previously, Rick was vice president of engineering at Qualcomm, leading the development of the first commercial CDMA subscriber equipment. Prior to joining Qualcomm, Rick held technical positions at M/A-Com Linkabit.

Rick holds a B.S. from the University of California, San Diego where he was named the Alumni of the Year in 2001 and currently serves on the Council of Advisors of UCSD's Jacobs School of Engineering.
---
If you would like more information regarding Kitu Systems industry leading grid-integrated energy solutions, please submit a contact request and follow the links below for more detail.